Latest PCW news – 20/09/2023
Congratulations to Dr Ephrem Abathun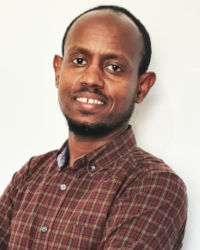 PCW is delighted to share news of this exceptional achievement.
This is an extract from Hospice Ethiopia UK's latest newsletter.
We are delighted that Ephrem, Director of Hospice Ethiopia, Addis Ababa,Ethiopia, has been awarded his doctorate from the University of South Africa
He studied 'breaking bad news' and identified the preferences of patients and individuals in how they would like to be informed of their condition when diagnosed with a life-threatening illness. He went on to develop a culturally sensitive guideline for breaking bad news in the palliative care setting in Ethiopia.
He commented "this represents a life time achievement through contributing to palliative care services in Ethiopia. The results will significantly contribute to Ethiopian patient care and treatment practice and decisions when life-threatening illness is diagnosed. Hopefully the results will be adapted for use in other African palliative care settings."
Dr Barbro Norrstrom (a Swedish oncologist and palliative care specialist) summed up Ephrem's achievement by saying "I'm so incredibly impressed by Ephrem, his great capacity, dedication, compassion for palliative care and the implications for all Ethiopians in need of palliative care".
Well done Ephrem!
Lights, camera, action
Palliative Care Works launches five educational films. Intended to help trainers around the world explain the key issues of palliative care, they come with scripts and teaching notes and are FREE.
We are a not-for-profit organisation, and since 1st June 2015 we have been a registered charity
(Charitable Incorporated Organisation) no. 1161919