Latest PCW news – 04/04/2023
Palliative care training in Nepal using the newly translated Toolkit
The Palliative Care Toolkit for resource limited settings sees its10th translation and this time into Nepali.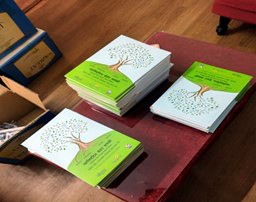 Nepal, with a population of 30.5 million, is predominately a mountainous country with many rural areas inaccessible by road. 83% of the population live in rural settings. For some people it maybe a days walk to the nearest road and another day by bus to their nearest hospital. One hundred and twenty five hospitals serve the population but much of the health care is given at Health Posts delivered by mid-level health workers. To reach a Health Posts maybe require many miles on foot.
A survey of palliative care needs indicated that up to 5% of people living in remote rural areas have advanced illness with significant health care needs and very few have received appropriate integrated management of their condition. Whilst palliative care focuses on caring for those with advanced illness, there is evidence that the communication skills and management of chronic conditions learned by health care professionals in the process of training in palliative care enhances their ability to provide effective management of non communicable diseases conditions earlier in the disease trajectory.
Background to the project
INF Nepal trained 23 health post workers in June 2018 utilizing the English version of the Palliative Care Toolkit. This training was evaluated in June 2019 through an online questionnaire and visits to six health posts where the training had been undertaken. Feedback from the training highlighted the need for a Nepali language version of the Toolkit to be available.
PCW were successful in a grant application with INF to secure funding of £15000 from a Trust for the Toolkit to be translated and contextualised into Nepali for local training and use at health posts.
Development of the project
Work on the translation commenced in April 2019, with contextualization, translation, and initial production. The trial training for health post staff using the newly translated Nepali Toolkit was planned by members of the INF Nepal Palliative Care Team visiting Lamjung District Hospital in March 2022. However this was cancelled at short notice due to the onset of the COVID-19 pandemic and an extended lockdown in Nepal.
The delay in the project gave the team in Nepal opportunity to complete further translation of Tools which we will be added to the Toolkit Appendix, including the Nepali translation of the Palliative Care Outcome Scale and the Nepali translation of the Supportive and Palliative Care Indicator Tool for Low Income settings (SPICT-LIS). SPICT-LIS is a tool to help clinicians identify people who need palliative care. The Nepali version of the Palliative Toolkit for Resource Limited Health Settings is the first Toolkit to have these useful additions within it.
Toolkit Training
Following relaxation of COVID restrictions in Nepal, and permission for the resumption of training, two delayed 2-day workshops using the draft Nepali Toolkit for training of health post workers were held in Lamjung district in November 2021.
The plan for 20 trainees at each workshop (10 District Hospital staff and 10 health post workers) was reduced to 15 to ensure COVID-19 safety. Five hospital staff were trained at each workshop - so an increased total of 30 participants completed the training.
Evaluation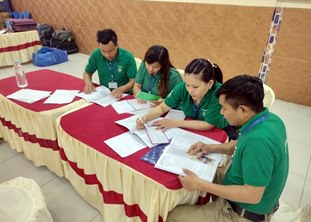 An evaluation of the project was carried out by two independent consultants in Palliative Care who praised the project and its outcome.
The process of translation was overseen by Dr Dan Munday (1) a specialist in palliative care who has been developing palliative care services in Nepal for many years. Dr Munday is part of the Primary Palliative Care Research Group at Edinburgh University but currently in Lamjung overseeing the training and development of palliative care there.
Since the initial grant and development of the PCW/INF project the British Government have awarded INF, in collaboration the EMMS (Edinburgh Medical Missionary Society) , a grant of £50,000 for the Sunita Project to continue the development of palliative care in Nepal.
Palliative Care Works have been delighted to work with the International Nepal Fellowship (INF) over the past five years to enhance the development of palliative care in Nepal. Also to have collaborated with the Nepalese Association of Palliative Care (NAPCare) Gurkha Welfare Trust (GWT) who have also been partners involved in the project.
PCW's Autumn Conference 2023
Saturday 14th October
10th Annual Conference – a hybrid event
The Changing Landscape of Worldwide Palliative Care Education
Hybrid Day Conference via Zoom: Saturday 14th October 2023
In person: Sobell House Study Centre, Churchill Hospital, Oxford OX3 7LE 09.45 hrs until 16.30 hrs
OR
By Zoom: Morning session only from 09.45 hrs until 13.15 BST (GMT + 1)
View the conference programme and register
Register directly here
Lights, camera, action
Palliative Care Works launches five educational films. Intended to help trainers around the world explain the key issues of palliative care, they come with scripts and teaching notes and are FREE.
We are a not-for-profit organisation, and since 1st June 2015 we have been a registered charity
(Charitable Incorporated Organisation) no. 1161919